The team for arts charity Brighton Dome & Brighton Festival had grown and grown in size, mainly residing in a warren of offices over two floor above shops near Castle Square in the centre of Brighton. A whole floor of the brand new South East Dance buiding became available at the freshy constructed Circus Street - a scheme replacing Brighton's wholesale fruit & vegetable market, masterplanned and designed by shedkm, with landscape architects J&L Gibbons and delivery architect tpbennett.
This large new accessible space was an opportunity for the organisation to get the majority of teams togther in one space. With daylight flooding three sides of the office and a functional kitchen space to use outside of their footprint, we had a large footprint to create zones for teams, along with flexibility for hot desking and different types of working. I worked closely with the client and relocation experts Moveworks who skillfully consulted the staff on the move and project managed the complicated transfer.
Being a charity, funds were especially carefully spent, and 20% of project time was donated as part of my company's charity project commitment. We utilised donated meeting pods to separate quiet areas. Regardless of the budget, the space still had to fulfill the brief of looking impressive, conveying the values of the charity and be comfortable and healthy to work in. High quality desking, chairs, soft seating, breakout furniture and meeting furniture were all sourced from two refurbished office furniture specialists who supplied and installed. Not carpeting the brand new metal suspended floor tiles has been an experiment in dematerialisation, which may need to be revisited, but aesthethically and budget-wise it's been a success. Everything looks so much better against it than against carpet tiles or other finishes that could also be offgassing in the space as well. I am grateful my client was open to the trial. I wait to hear more how it's performing.
Project steps: ALL:
Briefing and site visit
Interior design concept
Design development and sourcing
Detail drawings and specification
Procurement assistance
Client binder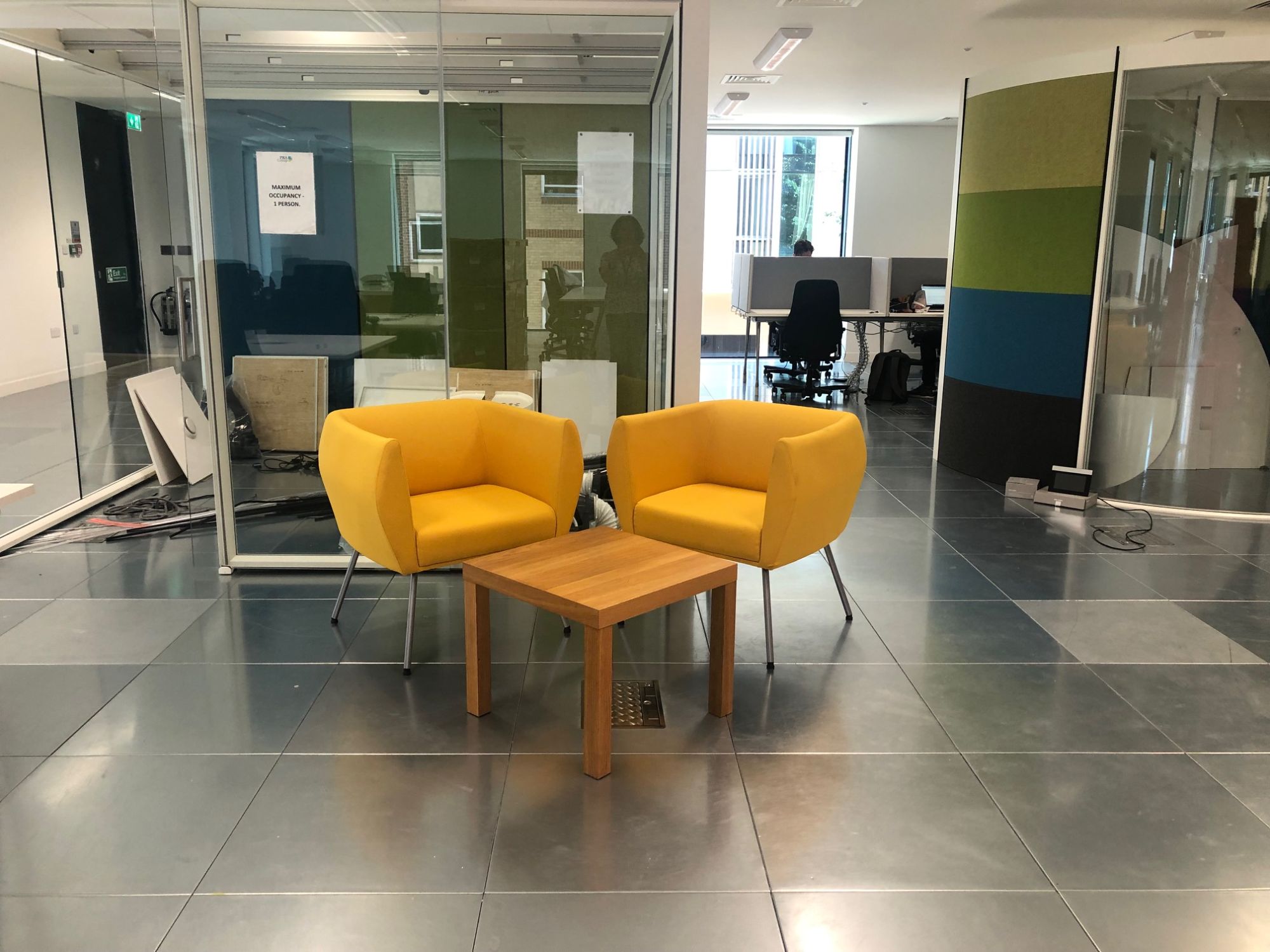 The following elements were incorporated into the design:
Using small businesses including local
Refurbished, or donated furniture and meeting pods
Avoiding unnecessary materials - floor left uncovered, no additional painting