I can tailor my help with your project - providing as much or as little help as you need.
The best route to a successful and efficient project is to involve the interior designer from the early planning stages and right through to completion. Early inolvement and planning saves mistakes and gives optimal results.
You might just need help with space planning an area or need design input at different points through your project. I can help as little or as much as needed on an hourly basis.
This option is good for those projects with tighter budgets. Here's the areas I can help with.
You can set the amount of hours. 6 hour minimum.
A consultation can be used to look at solving a problem area, space planning, sourcing items, shopping together, finding tradespeople, a bespoke item or help with a colour scheme.
This can be in person or online.
We are growing more and more aware of where things come from, the people & processes involved and the impact on the planet. So to support this, I help my clients by creating spaces and specifications that have a lower impact on the planet and people - whilst also looking luxurious!
I use the relevant One Planet Living principles and corresponding Sustainable Development Goals for 2030 (set by the United Nations) as prompts to deliver sustainable solutions for my clients.
Interior Design Declares
I'm proud to be one of the nine Founding Signatories of Interior Design Declares, launched in March 2021 for those working in the interior design industry and supply chains to commit to strengthen our working practices to design spaces with a more positive impact on the world around us.
My professional body the British Institute of Interior Design (BIID) as part of the Construction Industry Council has committed to achieve the target of net zero emissions by 2050. Find out more.
I'm part of two committees at the BIID to help members to deliver this.
What does that mean?
Conscious supply chains that ensure equity, health and wellbeing of those working in them. Use of certifications to do this.
Use companies championing diversity.
Energy efficiency – lighting, heating, window coverage.
Water saving measures.
Reuse or existing materials, preloved/heirloom furniture, urban mining, high recycled content and reduction generally of materials used through creative design
Use of products with carbon footprint assesments: opting for low embodied carbon - using suppliers using renewable energy production methods and lower travel distances.
Low impact specifications – specifying quickly renewable materials, using labels such as Forestry Stewardship Council (FSC) or Environmental Product Declaration (EPD) to select products.
Encouraging a circular economy (waste reduction) – reduce, reuse, repair, recycle. Using Cradle to Cradle certified products. Selecting products that are designed for disassembly, that are non-toxic and will compost and not leech.
Design for longevity, to be multi-functional, flexible, adaptable and repairable.
Waste management and reduction - reuse and recycling.
Manual of drawings, specifications and suppliers for ease of any future repair needs - preventing waste.
The word vegan is obviously mostly associated with food. But it's an accurate term to use when talking about materials too as it's not just animal products and ingredients I avoid - it's animal-tested products too.
This isn't about diet. Many of my clients avoid animal-tested toiletries and cleaning products -whether they are vegan or not. They also want to avoid cruelty in their home or business spaces and prefer to have positive stories in what they use to furnish with.
VE·GAN adjective:
- Products that do not originate from any living creature.
- Not a byproduct of any animal.
- The products and ingredients are not tested on animals.
How do I do that?
I have a library of better alternative products to suggest in place of those that involve animal cruelty. It's really easily avoided without any detriment to aesthetics and often is harder wearing and better for your health and the environment too!
In interior specifications, this covers: leather – suede – skins – wool – silk – down – feathers – bone - fur – paint – adhesives.
I'd rather look at positive new technologies that are developing alternative and better solutions, than dwell on negative, outmoded ones.
The alternatives have many health benefits for allergy suffers too as animal products are dust harbouring.
My objective is to avoid petrochemicals in the alternative solutions I deliver for clients.
We are reported to be spending 90% of our time indoors and our spaces are increasingly made more and more air tight. So it's important we are mindful of what we put in those spaces with us as inside air quality can often be many times worse than outside.
I am part the healthy building movement promoting better ways to design and specify spaces for human health and wellbeing. I use the FitWel® and the WELL Building Standard as the basis for a healthy, human-centric interior design specification. Making interior spaces work for the wellness of the users.
In this time of COVID-19 pandemic, the principles of these two standards are especially important and beneficial to the users of those buildings - addressing health & safety, cleaning protocols, air quality, access to nature, social distancing, community and mental health.
To support this I have studied....
to become a FitWel® Ambassador
'Healthier Materials & Sustainable Building ' ART & DESIGN WITH PARSONS CERTIFICATE PROGRAM PCID 0605 X1 at Parsons New School, New York.
What does that mean?
When designing a space I look at:
Materials
Air quality - including the use of chemicals
Water quality
Access to nature
Nourishment
Healthy lighting design
Movement
Mental health
Comfort
Community
Innovation
Are you interested in working with me?
HUMAN CENTRIC DESIGN things you can you do at home
I've applied the WELL Building Standard to:
and also our homes in article written with Jecks Stone
ONLINE design services are always available I can help you remotely
PROFESSIONAL ACCREDITATION British Institute of Interior Design (BIID)
I'm very proud to have been a BIID Registered Interior Designer® at the British Institute of Interior Design (BIID) since 2013. This is the only professional institute for interior designers in the UK recognised by the British Government.
The BIID has a reassuringly challenging joining process to ensure professionalism, ability and qualifications. I became a full member from outset to both assure clients of my abilities but also because I want to keep up my learning and network with my industry.⠀
Our membership ensures proper practice, qualifications, knowledge, insurances & professional development.
Volunteering for the BIID:
Co-writer of the Sustainable Specification Guide, launched September 2021
Judge for BIID Student Challenge 2021
Part of the new Sustainability Committee to encourage Sustainability throughout the organisation and our members.
Professional Practice Committee member
Mentoring
Continuing Professional Development (CPD) Panel member
I have been making lower impact choices for clients spaces for a long time now. All thanks for my educational time early in my career at The Body Shop HQ. At times it has felt a bit of a lonely experience. Answers have taken a long time to come back from any suppliers who I'm quizzing. I ask questions of suppliers that we'd ask at The Body Shop - and still 25 years later I'm not hearing positive answers back. What sort of questions? Well, the headline ones were: Are you using sustainable timber? Does this product contain animal products? Does this product have a recycled content? Does this contain PVC? Paint: what is the VOC content, are the ingredients or the end product tested on animals? These were just a small amount of them.
It's no good just doing this alone with the relatively small buying power of my business. I'm never going to make change in my industry. I've really wanted to inspire others to do work in the way I do - so I have put myself out of my comfort zone to talk in panel discussions and podcasts as well as writing articles and social media content. It's a been a great experience. I've met more and more people working in a similar way. We have more influence on our industry together. I've become more and more involved in my professional body the BIID - and I'm volunteering on two committees (Professional Practice and Sustainability) to increase our commitment and continued education. We are supporting our fellow members on both how we work for clients as well as how we operate our businesses more sustainably.
This year fellow commitee members Simone Suss, Brian Woulfe and I decided to form the Interior Design version of the Declarations that have been made within the wider Built Environment industry. We discovered others had shown an interest - so we gathered them us with us too. In March 2021 we published our declaration Interior Design Declares. As we were the first country to have this declaration - we are encouring interior designers in other countries to make their own declaration. If you are a design company or a supplier of goods or services to our industry - please join us!
Let's share knowledge....
I have worked with Chloe at Materialise on many projects. She has made a huge and invaluable contribution to the finished quality of our college and residential environments at different locations in the UK.
Chloe has the rare combination of creative, down to earth common sense, practical knowledge and great supplier contacts. She really takes the time to understand client needs and has an obvious passion for quality and service.
She's friendly and easy to work with and I would thoroughly recommend her.
Brighton and Hove
"Working with Chloe was such a pleasure! Her knowledge plus her design and sourcing skills made the whole project a fun adventure rather than the stressful one it could have been without her.
The physical distance was not a problem at all, Chloe visited the site a few times, when necessary, but was otherwise able to manage the refurbishment remotely. A year on and the clinic still receives almost daily compliments and are still completely thrilled with the way it turned out."
Swindon Old Town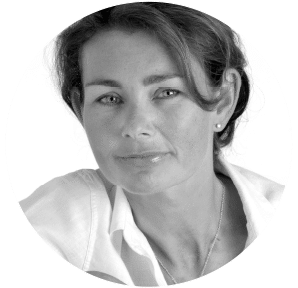 Are you interested in working with me?
It was a HUGE pleasure to be interviewed by a favourite podcast of mine - The Great Indoors - by designer and interior stylist Sophie Robinson & journalist and author Kate Watson Smyth.
In the podcast we talk about sustainable and ethical design with some insights and tips to help listeners. I very much enjoyed doing it and I hope you enjoy listening.
LISTEN HERE