PROGRESS to Feb '23
Scope 1: 0

Scope 2: Heat, power and light - 1.3 tonnes/yr

Scope 3 part 1: Travel and accommodation - 700kg/yr, Waste disposal - 0.25kg/yr, Water usage - 4.4kg, Purchased goods & services - 473.62/yr

Scope 3 part 2: 0

Scope 3 part 3: Purchased goods and services (for the business) 473.62kg/yr. Offsets: cookstoves 4 tonnes + 515 trees = 9 tonnes

Clients' projects??* calculation not yet included
SUB TOTAL carbon emissions tCO2e 2.59 tonnes
Emissions less offsets = - 6.41 tonnes (using https://www.clean-growth.uk/carbon-accounting/)

CHALLENGES:
*FOOTPRINT Scope 3 - Clients' projects is the largest part of company's footprint and the hardest to influence and improve.
Limited amount of suppliers providing carbon footprint calculations per item, per m2
Software needed to monitor and calculate. Action: contact current providers 7/12/22, 7/2/23.
Clients are not always engaged in reducing carbon footprint in their designs
How to calculate Reused items?
FOOTPRINT website: 697.19kg of CO2/yr (https://www.websitecarbon.com/)
FOOTPRINT: Operation of the company
INTERIOR DESIGN DECLARES FOUNDING SIGNATORY and STEERING GROUP member
I am a Founding Signatory and active Steering Group member of INTERIOR DESIGN DECLARES. Set up in March '21, this is part of the BUILT ENVIRONMENT DECLARES movement (previously known as Construction Declares). The initiative encourages change in our industry with the two main objectives being Climate Change and Biodiversity Loss.
Our objective: COLABORATE - INSPIRE - EDUCATE - CAMPAIGN
My company and eight others joined together to get the interior design's declaration set and publised.
IN THE UK Fellow UK designers and suppliers of goods and services to the interior design industry, please join us at: www.interiordesigndeclares.co.uk
DECLARATIONS IN OTHER COUNTRIES We are also helping other countries to join our Declaration. To date we have been joined by Finland, who will hopefully be closely followed by Egypt, Australia and the United States.
If fellow designers would like to set up a Declaration for their country, please join us at: www.interiordesigndeclares.com
Our declaration. I will seek to:
Raise awareness of the climate and biodiversity emergencies and the urgent need for action amongst our clients and supply chains.
Advocate for faster change in our industry towards regenerative design practices and a higher Governmental funding priority to support this.
Share knowledge and research to that end on an open source basis.
Evaluate all new projects against the aspiration to contribute positively to mitigating climate breakdown, and encourage our clients to adopt this approach.
Work towards including life cycle costing, whole life carbon modelling and post-occupancy evaluation as part of our basic scope of work, to reduce both embodied and operational resource use.
Work with others in the construction industry to upgrade existing buildings for extended use as a more carbon-efficient alternative to demolition and new build whenever there is a viable choice.
Act to address the disproportionate impact of these crises on disadvantaged communities and ensure that all mitigation and adaptation efforts address the needs of all people.
Ensure diverse and inclusive principles are implemented in hiring and retaining staff so that people of all backgrounds can participate in decision-making about the future of the designed environment
Request 3rd party certification or similar demonstration of environmental provenance and impact for each product specified.


Adopt more regenerative design principles in our studios, with the aim of designing spaces which go beyond the standard of net-zero carbon, including the specification of ultra low energy appliances.
Accelerate the shift to low embodied carbon materials in all our work. Seek to reuse and recycle products and materials at every available opportunity.
Minimise wasteful use of resources in interior design, both in quantum and in detail. Collaborate with all members of the industry to further reduce construction and packaging waste.
BUSINESS DECLARES
MEMBER

Business Declares is a not-for-profit organisation formed by senior leaders with a range of experience from the SME, B Corp and FTSE100 sectors. We are official members of the UN Race to Zero team for COP26. We believe that business has a major part to play in tackling the climate, ecological and social emergency.
Design Declares is a multi-disciplinary Declaration from the design community, to: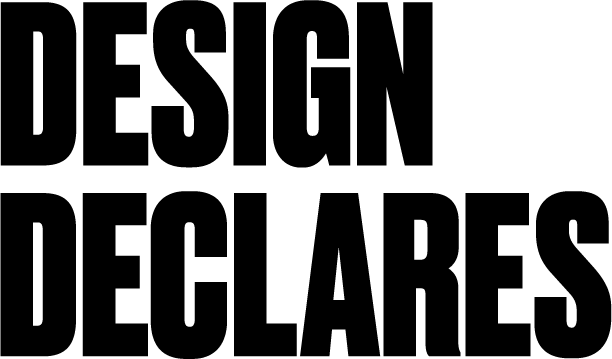 SOUND THE ALARM Acknowledge and raise awareness of the climate and ecological crisis - including its roots in systems of oppression - in our organisations and our practice.
START THE JOURNEY Invest in educating ourselves and our teams on methods of sustainable and regenerative design, and show leadership by making measurable change to our practice. The Design Declares Toolkit is a great place to start.
BRING CLIENTS WITH US Meaningfully consider environmental and social impacts as part of every pitch, proposal and production process. Not every design output will be carbon neutral or fully climate friendly, but every project is an opportunity to make real progress.
MEASURE WHAT WE MAKE Measure the environmental and social impact of our work and design projects, and hold ourselves to account for what we find out.
REDEFINE 'GOOD' Encourage, recognise and reward sustainable and regenerative design excellence in our industry through media and awards.
EDUCATE, ACCELERATE Build and foster intra- and cross-discipline knowledge networks to share tools, resources and best practice to accelerate progress in our industry.ck allows similar items to be added.
DESIGN FOR JUSTICE Create with and for the people who are disproportionately affected both by climate change and by the transition to a lower-carbon world.
AMPLIFY VOICES FOR CHANGE Enable systemic change by working alongside policymakers, campaigners, ecologists, scientists, activists and others to strengthen local and national movements for change.