Project steps: ALL:
Briefing and site visit
Interior design concept
Design development and sourcing
Detail drawings and specification
Trade liaison
Purchasing
Designer on site
Installation
Client binder
Shopfront design and planning application liaison (including signage)
My clients, the Mann family, have had a specialist Chinese supermarket on Preston Street in Brighton for many years before they decided to turn the ground floor and basement into a restaurant. They have a great knowledge and love of Japanese cuisine. I was bought in at an early stage to work out the feasibility for their business plan – the key things being fitting an open kitchen with a robatayaki grill to add theatre to the front of the building and the use of the remaining space and how many covers would fit.
I worked closely with commercial kitchen specialist Catercraft who produced the detailed layouts and specification for the open kitchen and preparation kitchen. Once that was satisfied the full Client Brief for this Full Service Design project was given and I worked on the concept for shopfront and interior design, working with graphic designer Alex Borg on the branding. At the same time I worked with the building contractor to guide the clients through the Change Of Use from retail (A1) to restaurant (A3) and Planning processes using specialist consultants Lewis Planning and Acoustic Associates Sussex.
While we waited for permissions the client opted to progress with the next steps – Design Development and Detail Drawings & Specification so that we were ready to begin work on site once permissions were received. Luckily the applications went through smoothly and we were all ready to go with a full drawing pack once we received the approvals.
Work began on site straightaway and the clients placed orders for ready made furniture items which we sourced together. I had already produced bespoke furniture designs for the servery counter, overhead racking, shelving, wall mounted tables and bar for the basement. Bespoke seating was ordered. Both external and internal signage was made by Brighton company Recreative Signs.
I attended site for regular meetings through to opening and the restaurant opened at the beginning of September '18.
Photo credit: Jim Stephenson www.clickclickjim.com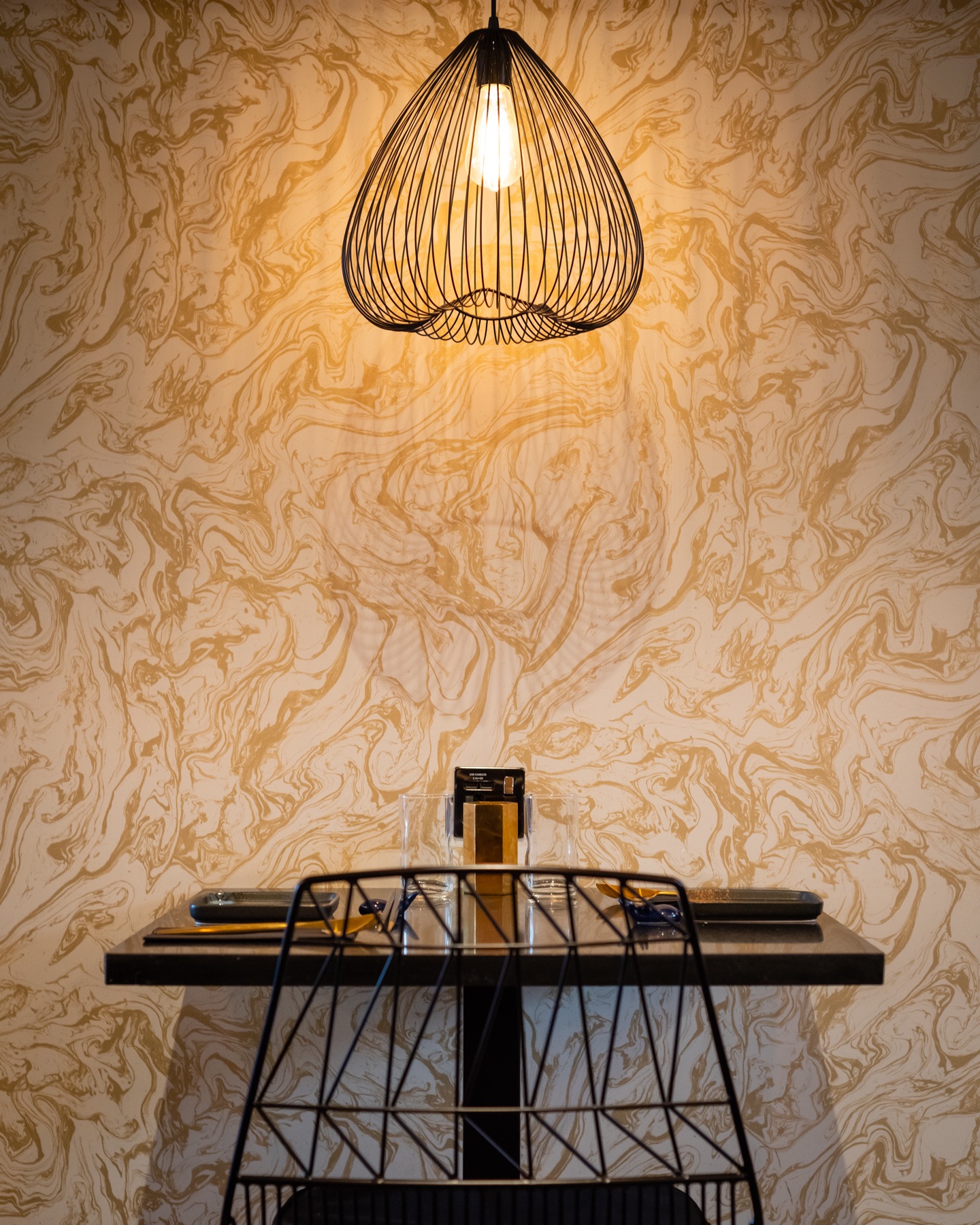 A good number of eco design elements were incorporated into the design:
Recyclable aluminium shopfront
15% recycled, fully recyclable herringbone flooring
Combined sensor taps with air dryers, producing 72% less CO2 than average hand dryers and up to 68% less than paper towels
Water saving shower WCs
100% low energy lighting
Eco-friendly, vegan/cruelty free paint – with minimal VOC content
Recycled glass servery counter top and wall mounted tables using glass collected in the Brighton and Hove area (95 bottles make one square metre)
Very low formaldehyde, Forestry Stewardship Council Certified furniture carcasing
Vegan-friendly suede alternative upholstery covering with Oeko-Tex Standard 100