Me and The Body Shop
Posted on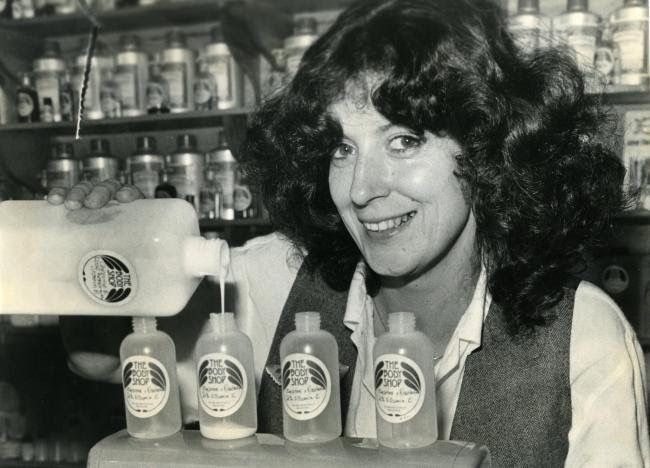 I love this photo of Anita Roddick. Growing up in Brighton in the 1970s at the time this first special shop opened here - me and my friends knew The Body Shop so well! It was where got your ears pierced -or not - if you like me you weren't allowed! For me it was where I choose the next colourful sticker for my collection from a reel on the cash desk, while my Mum bought 'car-rot' cream for my Gran (family joke!) or had a potion refilled.
I would spend my pocket money there. I bought soap for my soap collection (will tell you about that another day!). Then had gift baskets made up there as I got older ....and I started to engage with the company's values - especially Against Animal Testing.
When I returned to Brighton after university - it was the recession of the early 90s. I had a bumpy start and was made redundant from my first 'proper' job. So in desperation, I hand wrote a letter to Anita. I remember it well. I asked if they might need the help of a 3D designer in their head office (just along the coast in Littlehampton). At that time Brighton was not the place to get furniture or interior design work. Then it was all about finance, insurance and tourism. Well I got a reply! ...and I promptly headed up to their London office in Great Titchfied Street to beginning helping designer Daisy Cresswell with some small merchandising projects.
That lucky break lead to a wonderful 10 years of working on projects in lots of countries - and working with MANY other inspiring Anita fans. I even worked for their Australia and New Zealand head office for the best part of a year. It was fantastic!
I'm telling you this because ethics and business have been what I have grown up with and I had my sustainable design grounding in - all learnt while working for this pioneering company. It is very much in the DNA of my own company now and I am very proud to continue Anita's way of being a business into my own.
You can read more about my ethical business in this recent article I wrote.
I'm keen to share what I've been fortunate to learn from Anita Roddick and her wonderful, ethical company. I love helping people with Anita's entrepreneurial spirit to help their visions become a reality. Being a designer with commercial experience means you are working on more than an interior aesthetic. It requires areas of theatre, a customer journey, branding, robust and long lasting finishes... lots of challenges. It influences how I work on all projects - including homes.
Read more on Anita's influence in this interview
If you'd like help with an interior design specification that is compassionate and low impact - then book a free Discovery Call here.