Materialise Interiors is now a Certified B Corporation!
Posted on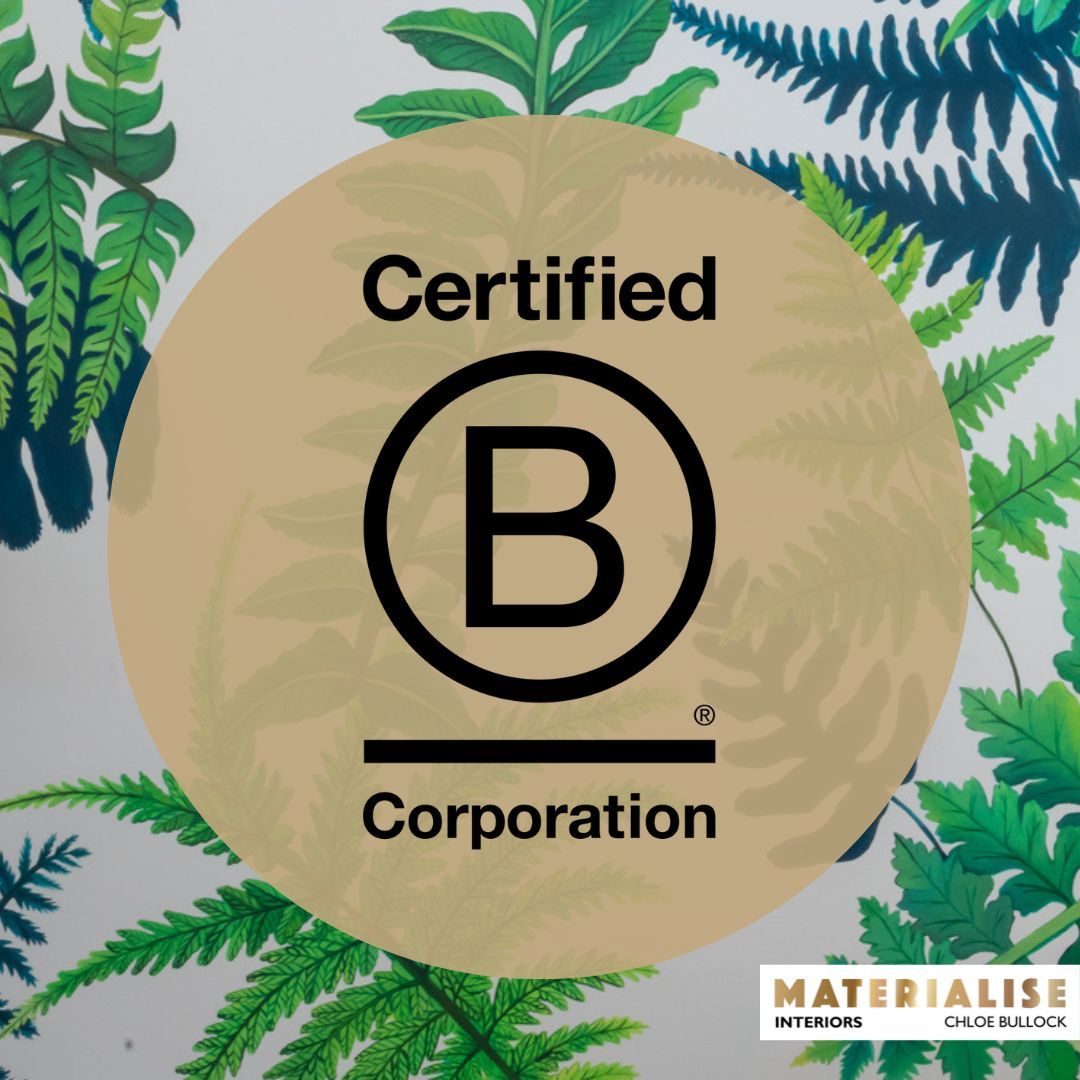 When I first heard about
B Corp
I was instantly interested after working for an ethical business for so long. Much of it echoed with what The Body Shop International did - monitored by themselves. I could see from inside the business that it wasn't always the most convenient set of requirements - but it kept the business true to its purpose and I respected and admired The Body Shop greatly for being authentic and true to their values and purpose in business.
My own business I set up straight from leaving The Body Shop was based on what I'd learnt there in the previous 10 years. Respect for those who I do business with, banking, what impact my own business has through the work I do, and minimising the impact on people, planet and animals.
The Body Shop have gone on to be the largest BCorp as part of their owning company Natura .... and guess what....
After nearly 9 months I'm so glad to tell you I have completed the process with a score of 98 (far higher than the 80 points required). I have just signed the B Corporation certification declaration. This micro interior design business consisting of me working part time at best thanks to volunteering duties and book writing for @RIBA is now a B Corp too! It means a lot to me to achieve this as such a tiny business.
I know that badges are not necessary and we can do it all anyway (because I've been doing that for nearly 18 years) but It's a much needed boost after quite bumpy times in business which I have been fortunate to survive. I want to be part of something positive and connect to those other businesses through this movement, to improve faster and together and to influence those around us.


I've done it to show if I can do it - it's possible for any size of business.
So if you are reading this, please start the process .....
1. At least back the Better Business Act and push for the Companies Act to include people, planet as well as profit (free!)
2. Set UNSDG goals using the SDG tool (free!)
3. Start the B Corp process using the B Lab Impact Assessment tool (free!)
Just requires effort!
Chloe Bullock | Materialise Interiors — Animal, human and planet friendly interior design | Brighton's award winning BIID Registered Interior Designer® | VEGANDESIGNORG CERTIFIED™ | FitWel ®
Ambassador | FRSA | interior design Sussex and South East | homes and businesses | https://lnkd.in/eedqJN3H #interiordesignerbrighton #interiordesignbrighton #interiordesignsussex #humancentreddesign #designforhealthandwellness #greendesign #responsibledesign #compassionateinteriordesign #sustainabledesign #ecodesign #consciousdesign #vegandesign #veganinteriordesign #regenerativedesign #materialiseinteriors #interiordesign #LivingFutureAccredited #BCorp