My business of 15 years - Part One: TREE PLANTING
Posted on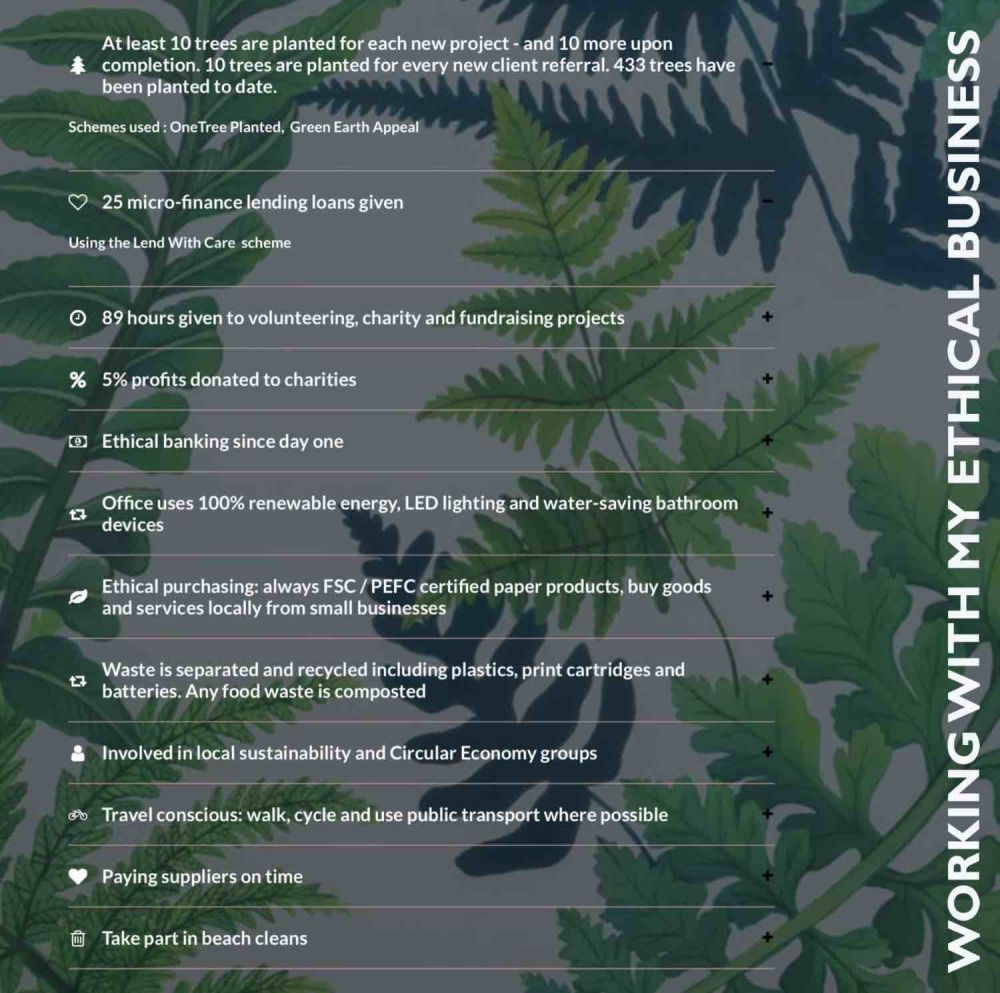 I want to write about being an ethical business and what that means to me. I've been very fortunate to experience the inner workings of a successful ethical business in action during my 10 years for The Body Shop International's head office - so it's natural for me to carry these values on into my own business.
This month I celebrate my 15th year in business and I'd like to use that milestone to review what I am doing and to make improvements. Wow 15 years though. It's been a great experience but it's not been the simplest path - from a housefire in my first week in business (I'll tell you about this another time!) - to a financial crisis, Brexit uncertainty and now a pandemic! Who'd have thought it would be so dramatic.
TREE PLANTING is really important to me and my clients love having trees planted in their name as a thank you when I've worked with them. It is a positive although inaccurate contribution to offset the carbon used on the materials used in their projects. I'm aware it's not in any way exact.
The exciting news is that there are pioneering furniture suppliers are able to give a CO2 calculation with their products. It's a hugely useful piece of information and I can't wait for it to become the norm in my industry. Clients can consider that as part of their decision process.
I want to review and increase my commitment to planting trees...
🌳Up to now I've been planting 10 trees at the beginning and end of a full project. This will now be 25 at the beginning and end.
🌳 I've also decided to plant 10 trees for each one-off consultation as I've been doing lots more of these recently - especially online.
🌳 As a THANK YOU for anyone recommending my services I have 10 trees planted in the name of the referee for each positive CLIENT REFERRAL lead I receive.
🌳 I'm planning to stay on the ground for travel for a while - but if I do fly I will I'll follow Natalie Fee's advice in her book 'How To Save The World For Free' She tells us "...if the aviation sector was a country - it would be the 7th biggest polluter in the world." Obviously this is a pre-pandemic fact. But it's an alarming one. Natalie recommends
Atmos Fair - the flight is calculated and you pay to offset. Offsetting takes the form of numerous climate protection projects such as energy efficiency, wind energy, hydro and solar power.

Mossy Earth - your flight is calculated by the hour or road trip by distance and you pay for native trees to be planted and/or support their rewilding projects.
Today I'm up to 433 trees planted and I'm just about to plant more for a client.
The project I'm supporting at the moment is PETA founder Jane Goodall's Institute initiative with OneTreePlanted - who need our help to plant 3 million trees as part of the Wildlife Habitat & Corridor Restoration Project. The Albertine Rift landscape is a diverse ecosystem which is crucial to many species and is a prominent habitat for endangered chimpanzees. It also houses over 50% of birds, 39% of mammals, 19% of amphibians, and 14% of reptiles and plants of mainland Africa. By pooling resources and combining efforts, One Tree Planted and the Jane Goodall Institute are aiming to restore and manage these incredible forests.⠀And it's not just about biodiversity, working with local communities will also include promoting agroforestry for sustainability, improving forest monitoring, and establishing community-managed enterprises and microlending programs in order to create a holistic long-term benefit.⠀⠀