It's my company's birthday, Materialise Interiors is 17!
Posted on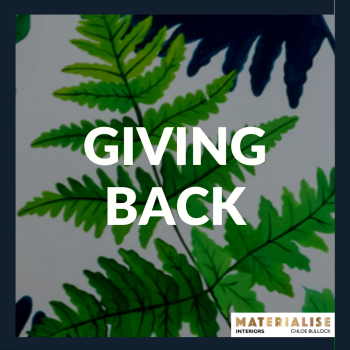 It's my company's birthday, Materialise Interiors is 17! I'm hugely grafeful to have been in business for so long and to all who have supported my business. THANK YOU!
I review my company giving each year on my company birthday and at the financial year end (Earth Day 22nd April).
This post is a form of public reporing of progress on the handprint of the company.
GIVING BACK
Last financial year decided to increase donations by switching from donating 5% of profit a year, instead to 5% of gross sales (turnover) a year. You can read more about who I support on my Ethics Statement.
MICRO-FINANCE LENDING
For many years I've enjoyed helping micro-finance loans to small businesses in developing countries via Lend With Care and am now up to 45 loans (total was 37 loan this time last year).
CARBON OFFSETTING
COOKSTOVES Offsetting carbon emissions is important, but addressing reduction of them is vital. I love planting trees but have learnt there's other excellent ways to offset carbon - including providing cookstoves to developing countries. Cookstoves are more efficient and safer to use than burning wood. They decrease the use of wood by around 70%. This reduces carbon emissions by around 2 tonnes per family per year and also leads to reduced smoke & an improved living environment. In this way, forest areas are protected and women spend less time & energy collecting wood.
I'm glad to report so far this financial tear my donations this year so far have offset 10 tonnes of Co2. (total was 7 tonnes of Co2 this time last year).
TREES I've loved supporting Jane Goodall's project with OneTree Planted. But as we don't have time for trees to grow to absorb CO2, I've shifted to planting much faster growing mangroves which are planted to protect coastlines and riverbanks, restore biodiversity in ecosystems - and store 5 to 10 times more carbon than land ecosystems.
This year my total is 3,002 (total was 1,992 trees this time last year). NB. These are still counted as part ot the MILLION TREE PLEDGE. This pledge is proof that micro companies like mine can make a difference. The small action of joining together has a significant group impact. I'm in great company - here's the other Pledgers in the group. Let me know if you want to join up too!
My ongoing tree donation commitment…
- At least 25 trees are planted for each new full project - and 25 more upon completion
- 25 trees are planted for every successful client referral
- 10 trees are planted each consultation.
VOLUNTEERING
I donate time to pro bono work for charities, volunteering, charity and fundraising projects, running of Interior Design Declares and mentoring two designers. To date 467 hours.
As well as actively being part of INTERIOR DESIGN DECLARES steering group and BUSINESS DECLARES, I have just signed up to the Design Council's DESIGN DECLARES as well. I believe collaboration and sharing knowledge is vital to improving the impact businesses have on people, planet and animals.
Read the Declaration and Action Plan here.
Next reporting will be Earth Day 2023, 22nd April